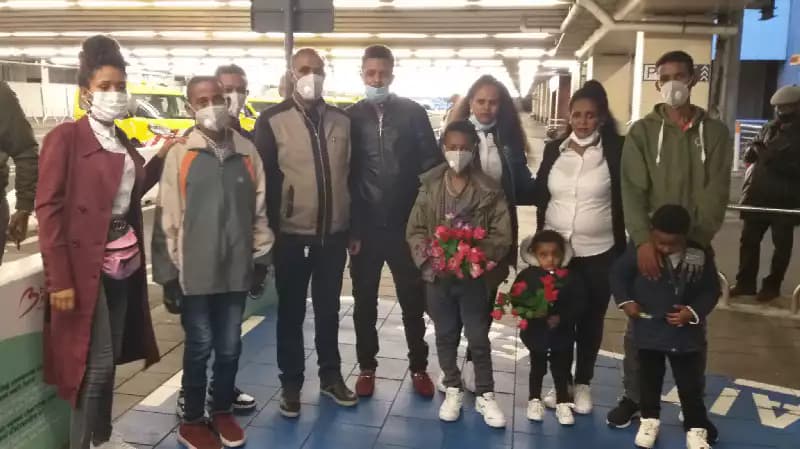 Life in Eritrea may present many challenges that test the strength and resilience of its people. In this heartfelt narrative, we share the remarkable story of Novel and her family, whose journey from Eritrea to Belgium is a testament to the enduring power of hope.
"My dad was forced to join the army and was only allowed to be with us one week every three years. Everybody is forced to join the army once they turn 19, without knowing when or if they will ever be able to return home."
Novel's tale begins with the separation of her family, as her father's service in the army meant that he could only be with his loved ones for a mere week every three years
"My mother could not take care of 9 children alone. I was 13 years old when I fled Eritrea."
In the face of mounting challenges and the weight of responsibility, Novel, at the age of 13, made the heart-wrenching decision to flee Eritrea. Her older siblings had already sought refuge in countries like the Netherlands, Germany, and Israel, leaving her and her younger brothers in the care of their mother, who valiantly tried to hold the family together.
"Two years ago, my father, mother, younger brothers, and nephew Aman tried to leave Eritrea and get to Ethiopia. My mother was arrested at the border and imprisoned in Eritrea."
The family's quest for a better life led them to make a daring journey to Ethiopia. However, their path was fraught with peril, resulting in the arrest and imprisonment of Novel's mother at the Eritrean border. It was a profoundly distressing turn of events, further underscoring the challenges faced by those seeking freedom from oppressive circumstances.
"Yesterday, I saw my father, brothers, and nephew for the first time in 6 years [Miles4Migrants flew five of Novel's family all together]. I am so extremely happy to have them with me. Words can not describe."
A transformative moment arrived when, after six long years of separation, Novel was finally reunited with her father, brothers, and nephew. The joy and relief that washed over them defied description. Their reunion was a testament to the indomitable spirit of families torn apart by adversity, never giving up on the hope of being together again.
"My older brother and sister and their families also came to the airport when they arrived. Finally, we are together. The only wish we have now is that our mother and the mother of my nephew Aman can join us in Belgium."
The reunion was even more poignant as Novel's older siblings and their families came to the airport to welcome their loved ones. Yet, there remained an unfulfilled wish—to have their mother and Aman's mother join them in Belgium, completing their family once more.
"Thank you so much for your help to my family."
*Update: Shortly after Novel's family reunited in Belgium, their story took another turn. Their mother was released from prison and returned to Eritrea. Now, organizations like Steunpunt Asiel & Migratie are diligently working to facilitate her family reunification visa, with the hope that she can soon rejoin her loved ones in Belgium. This ongoing saga underscores the complexities of family separation and the tireless efforts to bring families back together.