Support American sponsorship for migrants seeking refuge with a free flight to safety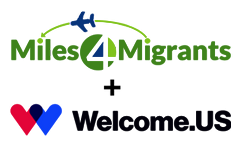 Support American sponsorship for migrants seeking refuge with a free flight to safety
Our commitment to upholding human rights and dignity by removing travel barriers for forced migrants around the world is stronger than ever. Miles4Migrants and Welcome.US have partnered with American Express Global Business Travel, to make travel more accessible to Cubans, Haitians, Venezuelans, Ukrainians, and Nicaraguans seeking refuge in the United States.
The Welcome Connect Travel program will help to remove the cost of travel as a barrier to the humanitarian sponsorship of displaced people, by ensuring that flights are more accessible to those seeking refuge. To book these flights and offer safe travel, we need your support!
Together our goal is to raise $1.5 million to help displaced people seeking refuge in the U.S. Join our movement to bring migrants to safety. Your gift can provide a flight and a warm welcome to people seeking comfort and a chance to begin again. You can donate cash, frequent flyer miles, credit card points, and travel vouchers to help us make safety only a few miles away for so many individuals in need.