By Patrick Stouffer
For a limited time, Aeroplan will match all donations to Miles4Migrants (and only Miles4Migrants), up to half a million points! That could represent dozens of reunification and relocation flights for asylum seekers and refugees. If you've been waiting for that perfect moment to donate your Aeroplan or Amex Membership Rewards Points — now's the time.
Air Canada Aeroplan Will Match Up to 500K Donated Points
If you're familiar with our mission at Miles4Migrants, you know we use donated frequent flyer miles to book travel for asylum seekers and refugees. More specifically, we assist those who are allowed to travel but simply can't afford it. This means that every day, we book flights that reunite torn families and spare refugees the burden of starting a new life in debt. 
While we accept donations from almost every airline loyalty program, Aeroplan is special to us. As the loyalty program for Air Canada, Aeroplan was our first official airline partner— placing faith in our mission when our organization was still in its infancy. Thanks to our partnership, we've been able to reach a larger audience and, most importantly, help far more people. 
Now, one of our favorite partners is at it again! For the week of May 10th-16th, Air Canada Aeroplan has named Miles4Migrants as its featured charitable foundation. Aside from promoting awareness, this also means Aeroplan will match any donations made in this timeframe up to 500,000 points total. 
(Don't have Aeroplan Points? No problem – read on for how you can donate Amex Membership Rewards points instead while STILL taking advantage of the match.)
What Can You Do? 
In a word: donate!
If you've ever flown Air Canada (or happen to hold an Aeroplan co-branded credit card), you may have some extra Aeroplan points clanging around that you won't use. If so, this promotion is the perfect way to put them towards a good cause while also doubling their impact.
Here's how to donate your Aeroplan Points:
1. Click this link to open the homepage of our promotion.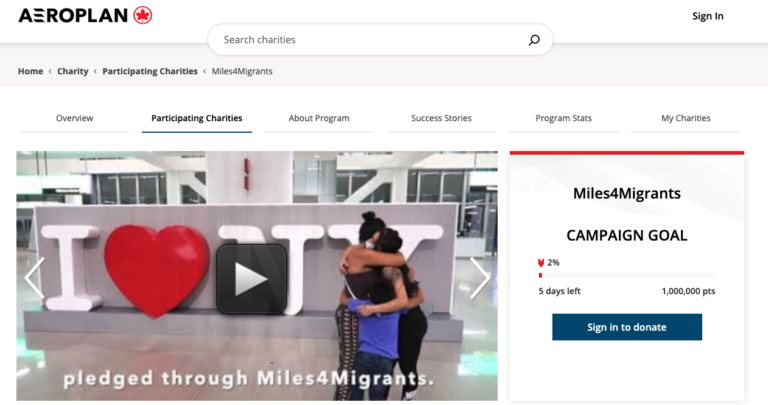 2. Once there, log into your Aeroplan Account by selecting 'Sign in to donate'.
3. After you've logged in, you're brought back to the homepage where you can now select 'Donate now'. Then, simply fill in however many points you'd like to contribute. 
That's it!
What happens next?
Once you've confirmed your donation, your points will move to our pooled Aeroplan account – where we'll use them to reunite families and support asylum seekers. 
To give you a better idea of the power of your donation, here are just a few of the stories made possible by Aeroplan Points:
Congo Refugee Reunites With Four Sons After Over Five Years Apart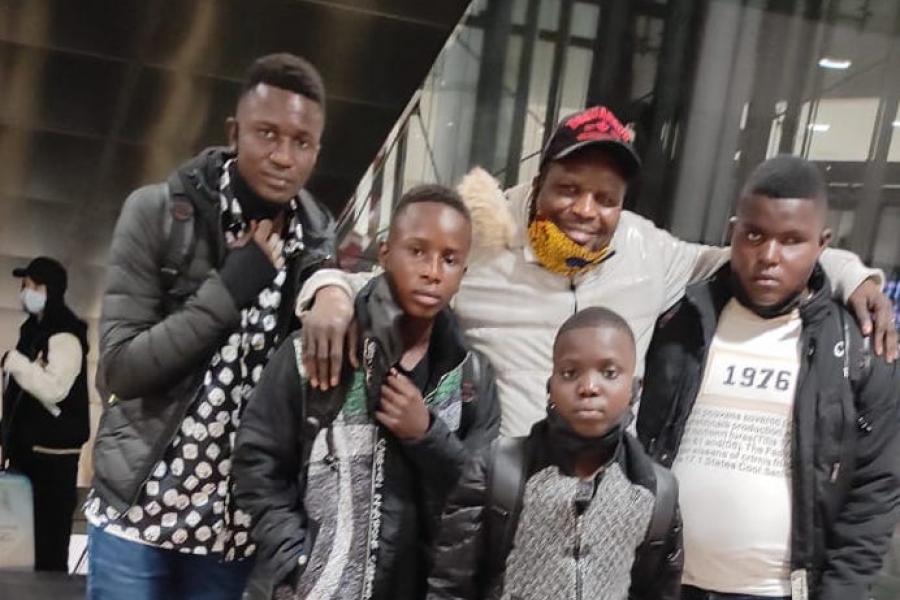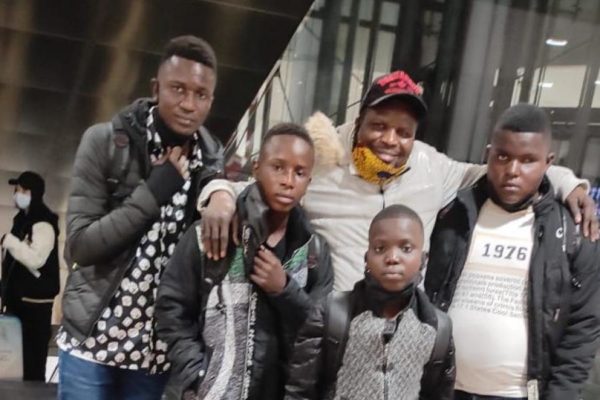 Mr. Seme fled the Congo over five years ago. Since then, he's toiled to save enough money for visas for the rest of his family – while simultaneously battling the complexity of the Belgian refugee program. After many failures and delays, he managed to secure visas for four of his six children. Thanks to Aeroplan Points donated to Miles4Migrants, Mr. Seme finally reunited with his four sons after over five years apart. He continues to save more money with the goal of reuniting with his wife and remaining two children soon. 
A Mother Reunites With Her 10-Year-Old Son After Seven Years Apart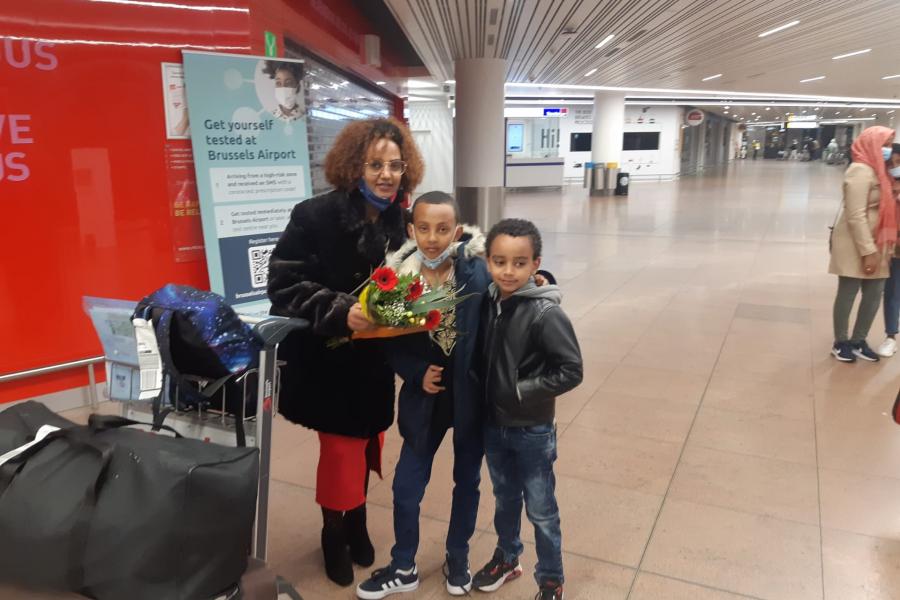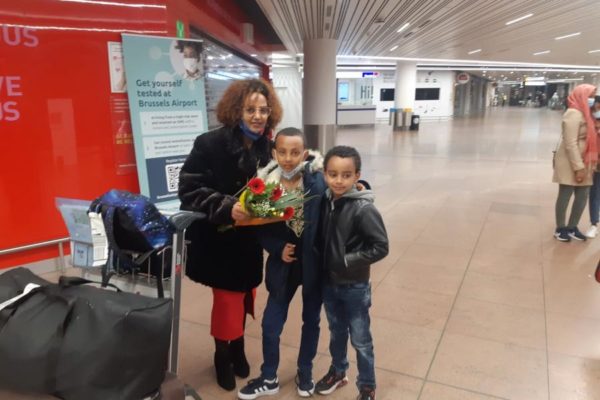 Hermon fled Eritrea over seven years ago, forced to leave her young son, Natan, in the care of cousins in Ethiopia. After a long and arduous journey, Hermon finally managed to secure refugee status in Belgium in 2016, immediately applying for Natan to join her. With the help of donated Aeroplan Points and Miles4Migrants, Hermon and her son joyously reunited this year after seven years apart. Along with Hermon's new family, they're now building a life together in Belgium. 
Daughter Reunites with Mother and Brothers After 5 Years Apart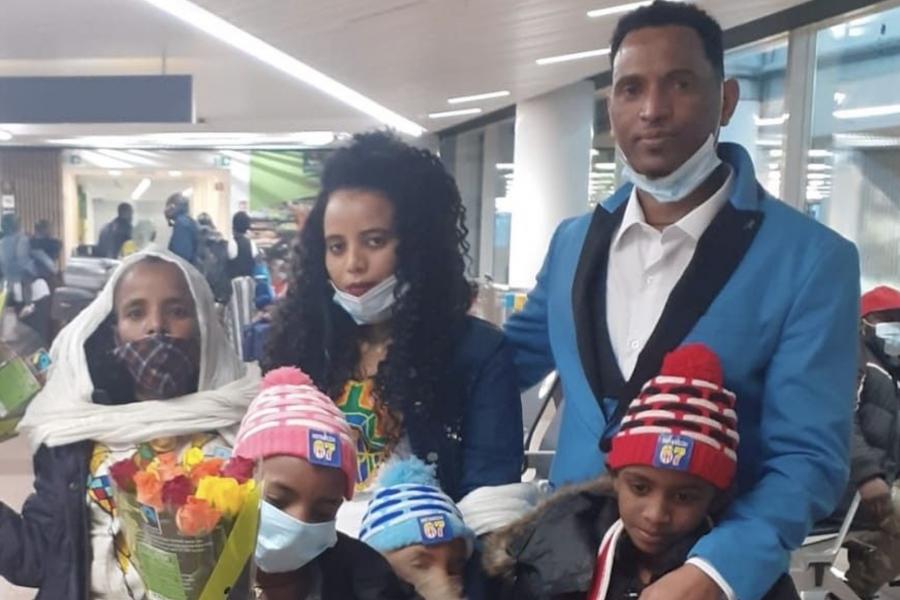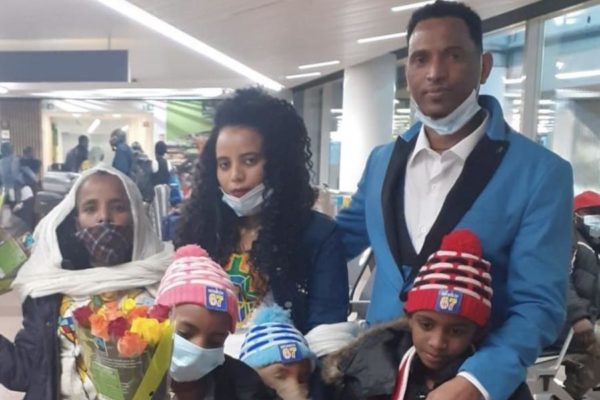 This young lady has an unbelievable story of perseverance and determination, culminating in an heart-warming reunification thanks to donated Aeroplan Points. I think it's best shared in her own voice:
"My name is F., I am 19 years old. When I was only 14 years old, me and my family had to flee from our country Eritrea to Ethiopia. 
My mother and brothers stayed in Ethiopia, but I decided to try to get to Europe to bring us all to a safer place. My little brother was only a baby when I left. It took me 2 years to reach Belgium.
I travelled through Sudan, Libya and Italy before arriving in Belgium when I was 16. The asylum- and family reunion procedure took so long because of covid. When my mother and brothers finally got their visa, I could not buy them plane tickets, because I am still a student. 
I was very happy when I heard that Miles4Migrants wanted to help me and buy the tickets for my mother and brothers. Their first flight a few weeks ago was cancelled because my brother tested positive on covid the day before their departure. But Miles4Migrants immediately bought them new tickets after a few weeks of quarantine. 
I am very grateful for your help. Thanks to you my family could be reunited after more than 5 years apart. Thank you so much."
No Aeroplan Points? No Problem. Donate Amex Points Instead!
If you don't fly Air Canada often, you likely won't have too many Aeroplan Points just lying around. However, you can still participate in this promotion.
Thanks to the magic of flexible award currency, anyone with an eligible American Express card that earns Membership Rewards Points can easily convert their points to Aeroplan. Here's how that works:
1. If you don't have an Aeroplan account already, create one here. It's free and easy to join.
2. Find your Aeroplan loyalty number, and write it down somewhere. You'll need it to transfer your points from Amex.
3. Use this link to log into your American Express account. It navigates you directly to the 'Transfer to Air Canada Aeroplan' page.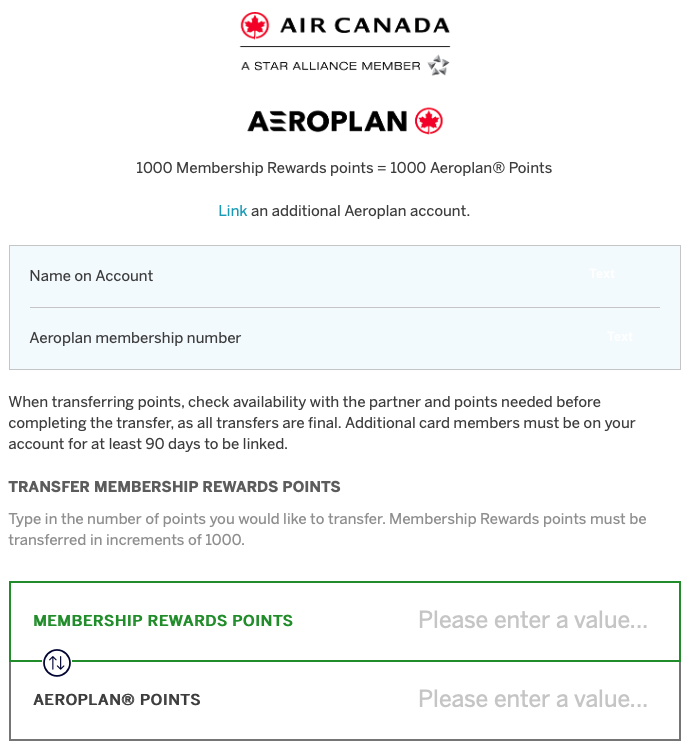 4. Follow the instructions on the page to link your Aeroplan account with your Membership Rewards Account (Remember that account number you wrote down earlier?). Complete the instructions on the screen to transfer however many points you can spare. 
5. Once you've initiated the transfer, the points will arrive in your Aeroplan account almost instantly. Log back into your Aeroplan account with this link, and follow the instructions outlined in the above section for Aeroplan donations. 
Far more people have access to Membership Rewards Points than Aeroplan Points. So if you find yourself points rich, share the love with some folks who could really use them.
Bottom Line
Between May 10–16, 2021, Air Canada Aeroplan will match all donations to Miles4Migrants up to 500,000 points. If we hit this goal, Miles4Migrants will have a million more points to use toward reuniting torn refugee families and supporting asylum seekers in their battle for a new life. 
Over the last year, many award-travel enthusiasts have found themself with more points than they can use. If you've found yourself in a similar situation, consider donating now to double the impact it'll serve.